Practice Manager Plus
Advanced integrated practice management.
From £40.00
Buy Now
Take a Trial
The practice management solution
that puts you in control
Want to work smarter, faster, be more organised and in complete control? Integrating with your TaxCalc suite, Practice Manager Plus is the solution for managing compliance services in your practice.
With advanced workflow, deadline and task management, you'll banish bottlenecks, identify inefficiencies and automate time-consuming tasks to boost productivity and up your game.
All from just £40 a user per year.
Game-changers
Statutory deadline management
Manage tasks based on statutory deadlines.
Automation
Build automatic triggers and transitions into your workflow.
Streamline processes
Use preset workflow templates or customise your own.
Practice Manager Plus. Perfect for growing practices. Essential for larger ones.
Buy now
More features

Part of the practice management suite
See our practice management solutions
Add on simple client onboarding
Companies House Advanced Integration
Collecting and maintaining client data can be a long and monotonous task, but with Companies House Advanced Integration this will become a quick and simple process.
Companies House Integration
£150.00 / year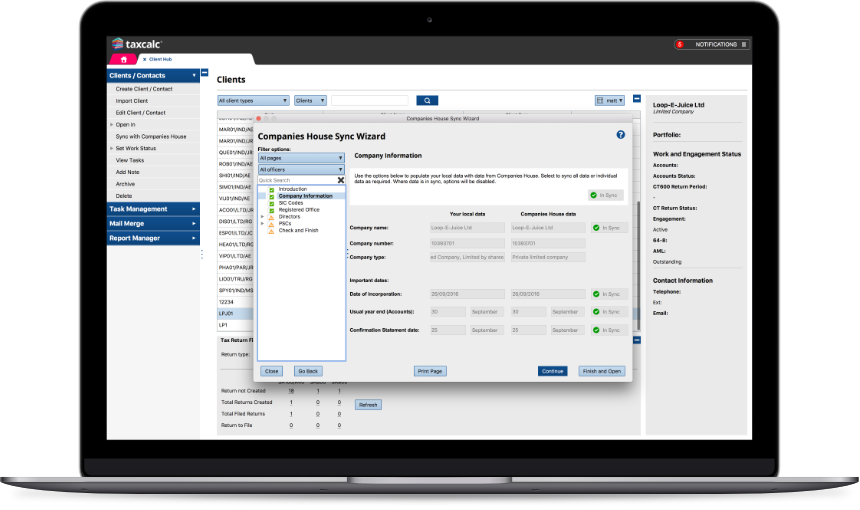 Features
Working alongside Practice Manager, Practice Manager Plus gives you the functionality of sophisticated PM systems for considerably less.
Advanced workflow
Power through jobs and tasks
Practice Manager Plus makes it easy to reorganise workflow, implement improved processes and keep tighter reins on job progress, freeing you up to grow your practice:
Make sure you meet all statutory deadlines. Create templates based on key tax and accounting dates and apply them to multiple clients
Create jobs and set up the tasks required to execute the job. Completing a tax return? Create it as a job, then set up the tasks required to complete the job efficiently
Customise the workflow for each job. Set up templates with all the required tasks and reminders, so you and your staff can simply follow the same process time and time again
Auto-populate dates from information already in TaxCalc.
Save admin time by setting up automatic notifications for regularly recurring jobs, such as VAT or tax returns
Assign tasks to specific members of staff
Identify bottlenecks and remove them. Assign multiple staff members for different jobs to keep the job moving through your practice
Customise events and transitions – if for example, the event is 'submitting a set of accounts' you can specify as many outcomes as you like for that event, such as changing overall job status, task status, assignee to that job – and notifiying users of those changes.
Dashboards
With Practice Manager Plus, you are in command of all you survey.
Multiple dashboards
Gain an overview of all activity and information in one handy snapshot
Organise information in whatever way you want
Set up different dashboards to monitor particular functions
Share with different users in the practice.
Private dashboards
Set up different dashboards to monitor particular functions for personal use
Maintain tight control over specific workloads.
Public dashboards
Display and share information with all staff
Ensure consistency across your practice.
Multiple offices
Flexibility comes built-in
Some members of your staff may be based in different offices. They may work in more than one office. They may need to collaborate on jobs between offices. Another great asset of Practice Manager Plus is that it effortlessly manages staff, clients and jobs across multiple offices.
Create separate bank details and filing credentials for different offices within the same firm for easier administration
Assign users to multiple offices, so you can cater for staff who work from more than one office
Assign clients to a certain office.
System requirements:
An internet connection is needed in order to license your product and to file online to HMRC.

Minimum screen resolution: 1024 × 768
Server installation:
One of the following versions of Windows:

Microsoft Windows Server 2016
Microsoft Windows Server 2012
Microsoft Windows Server 2008
Microsoft Windows 10
Microsoft Windows 8.1
Microsoft Windows 8
Microsoft Windows 7
Appropriate hardware to run the above operating system
Adobe Reader version 9.0 or higher
Microsoft Office 2010 (for export to Word and Excel)
Standalone/client installation:
Windows
One of the following versions of Windows:

Microsoft Windows 10
Microsoft Windows 8.1
Microsoft Windows 8
Microsoft Windows 7

Appropriate hardware to run the above operating system
Adobe Reader version 9.0 or higher
Microsoft Office 2010 (for export to Word and Excel)
Macintosh
Intel Macintosh running Mac OS 10.12 (Sierra) or higher
Microsoft Office 2010 (for export to Word and Excel)
Linux
64 bit kernel 3.10 (or higher), Debian (e.g. Ubuntu) or Redhat distributions
GUI
Office productivity software (for Word and Excel exports)
Practice Manager Plus videos
Take a few minutes to familiarise yourself with Practice Manager Plus
to see the full benefit it could bring to your practice.
Creating a dashboard
Set up a dashboard in TaxCalc to display your key metrics.
Setting up job templates
Configure your workflow with custom or default templates.
Starting a job for a client
Start a job for a client from your workflow.
How to set up multiple offices
Set up and define the various offices you and your team work from.
Frequently asked questions
Below you'll find answers to questions you may have about Practice Manager Plus.
If you'd like to know more, please call us on 0345 5190 883 or email sales@taxcalc.com.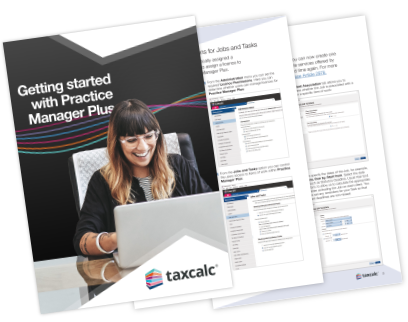 Getting started with Practice Manager Plus
Create, customise and co-ordinate all of your work in just a few simple steps.
What does Practice Manager Plus include?
Practice Manager Plus provides additional workflow tools to automate and manage your practice. Please see our feature comparison to see the enhancements it provides.
Can I buy Practice Manager Plus on its own?
No. You will need to buy one of our practice products as Practice Manager Plus requires Practice Manager to function. To purchase Practice Manager Plus please see our Versions and Prices page.
Please call us on 0345 5190 883 or email sales@taxcalc.com if you require help with purchasing.
What do I have to do to get set up and start using Practice Manager Plus?
How many users can use Practice Manager Plus?
Practice Manager Plus is licenced on a per user/per year basis, so you need to purchase the number of users that will use the software. Please see our Versions and Prices page.
Where has Client Hub gone?
Client Hub has been renamed to Practice Manager. All of the functionality you are familiar with still exists. You'll even find some useful additions.
If I stop using Practice Manager Plus, will my Jobs still be available?
Once your licence has expired, you'll still be able to access and progress any open Jobs up to completion. However, it will not be possible to create or activate any new Jobs. You can create or activate a corresponding standalone Task for the same type of work to use our standard Practice Manager functionality.
What type of Jobs can I create?
You can create Jobs for almost anything you need to track progress on. To create a Job, simply select from a customisable list of client and non-client activities. For common Jobs, you can apply a Job template or just create ad-hoc Jobs that may need to change over time.
To get you started, we've provided several templates that set workflows for key jobs. You can also construct your own templates, letting you work exactly as you need to.
What is the difference between a Job and a Task?
Jobs are only available within Practice Manager Plus and contain baskets of tasks that act as stages of the Job, ideal for transitioning through a workflow. For example, a tax return is a job and can contain tasks such as requesting tax return information from the client, receiving tax information, preparing the tax return and submitting the tax return to HMRC. Having separate tasks allows you to manage and report on the progress of your work more accurately and effectively.
Where a staged approach is not required, standalone Tasks can be created. Tasks have an assignee and a status and can be used for an item of work e.g. a tax return or a meeting, they don't have separate manageable stages though.
Is a free trial available for Practice Manager Plus?
No. A trial for Practice Manager Plus is not currently available although we will be looking at the possibility of providing a trial in the future. If you haven't already, please take a look at our Videos for an overview of some of the smart features that Practice Manager Plus includes.
To find out more, please call us on 0345 5190 883 or email sales@taxcalc.com.